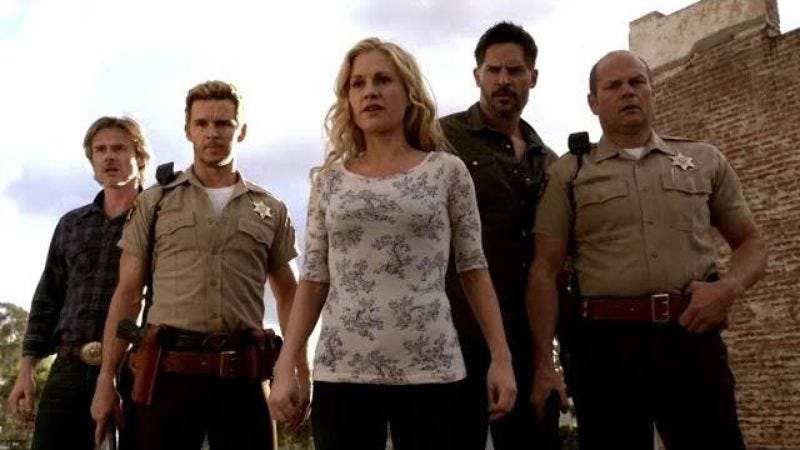 Because there are strict laws regulating bulk pick-up in the California area, the producers of True Blood are circumventing the hassle by auctioning off some 1,500 items of the show's garbage. Bidding opens next week on Aug. 20 and ends the night after True Blood's series finale, marking the first instance of True Blood wrapping things up in an expedient fashion. Those sympathetic to the heartbreak of clutter can help out by claiming a number of props from the show's history, their significance now rendered murky and irretrievable through the mists of so many seasons of crap about fairy-vampires and werepanthers.
Included are things like Eric's Fangtasia Throne, which could be used as kindling, and all manner of tight clothing worn by Ryan Kwanten's Jason Stackhouse, in case you have toddlers in need of rumpus gear. You can also buy these other things the show has no use for anymore:
- A "True Death" Puddle Of Bloody Remains
- Fangtasia "No Biting On Premises" Sign
- Eric's Blue "Dream Sequence" Tuxedo And Shirt
- Eric's Bloody "Standoff With Billith" Jacket And Jeans
- Eric's Black "Whipped Off For Gratuitous Nudity" Pants
- Bill's Gray "Thinkin' 'Bout Slavery" Henley
- Sookie's White "Jesus Christ Who Cares What Sookie Is Doing" Sweatpants
- Alcide's "Angry At My Dad" Steak
- Sam's "For Some Reason Not Turning Into A Beautiful Stallion And Galloping Away From All These Monsters And Idiots" Jeans
- Lafayette's "Disappearing For A Whole Episode Or Two" Scarf
- Arlene's Subplot
- A "True Blood" Puddle Of Abandoned Storylines

- Just A Big Ol' Pile Of Shit No One Gives
- Tara

Please note that you must be a registered member of ScreenBid to participate in the auction and that most of these items are completely made up.