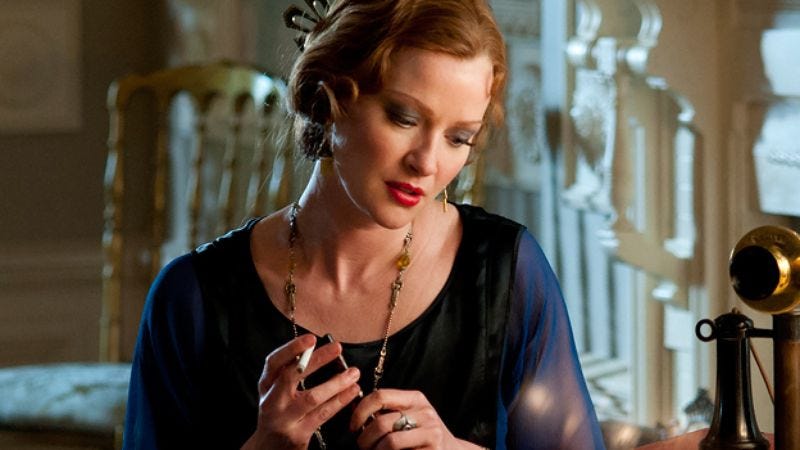 Deadline reports that Gretchen Mol has just joined the cast of Chance, Hulu's medical thriller series that wonders if Dr. Gregory House can heal minds as well as bodies. Well, not exactly—the series will star House alum Hugh Laurie in the eponymous role of Dr. Eldon Chance, a neuropsychiatrist who gets "sucked into a violent and dangerous world of mistaken identity, police corruption and mental illness" after meeting an alluring patient. Room director Lenny Abrahamson will helm multiple episodes of Chance, which is a TV adaptation of Kem Nunn's book of the same title. Alexandra Cunningham (Aquarius) is serving as showrunner, with Abrahamson also set to executive produce.
The Boardwalk Empire alum is set to play the distraught temptress, Jaclyn Blackstone, who enters into the neuropsychiatrist's care for "complaints of memory loss and blackouts." Jaclyn confides that she has an abusive husband, as well as another personality that won't let her leave him. She's reportedly "the kind of woman who can make sane men do insane things," so despite almost certainly knowing the difference between the two as a neuropsychiatrist—or, at the very least, that dating a patient violates his ethics—Chance falls for her. And because the abusive asshole Jaclyn's married to is also a "ruthless detective," soon both doctor and patient are in danger.
Mol recently wrapped a stint on Mozart In The Jungle, in which her musicians' union organizer character engaged in a far less perilous relationship with Saffron Burrows' cellist. She also appeared in Kenneth Lonergan's heartbreaking new film, Manchester By The Sea.