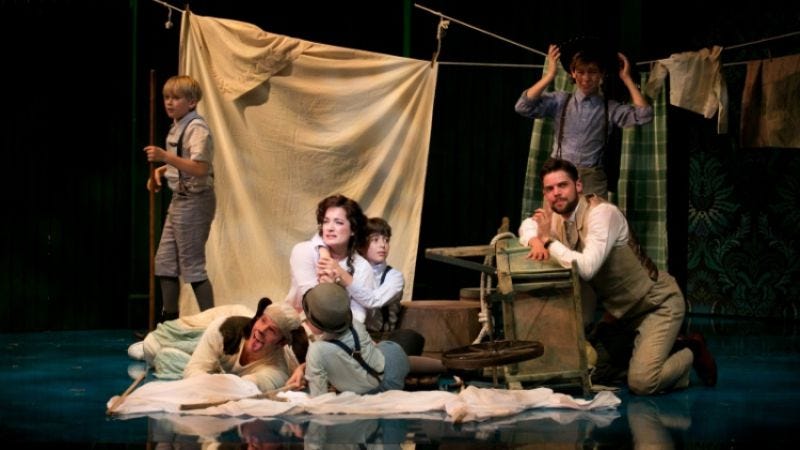 Having exhausted its supply of '80s and '90s movies to transform into musicals (what with Big, Dirty Rotten Scoundrels, Footloose, 9 To 5, Ghost, Heathers, Rocky, The Full Monty, and The Wedding Singer already getting the musical treatment) Broadway is turning to the early aughts for inspiration. In addition to Legally Blonde, Bring It On, Catch Me If You Can, Elf, and Big Fish, the latest 21st-century film to find new life on Broadway is Finding Neverland. Based on the 2004 Johnny Depp/Kate Winslet tearjerker about Peter Pan author J.M. Barrie, the musical is aiming to hit Broadway this March. (It's also part of Peter Pan's zeitgeist resurgence that includes about half a dozen film adaptations and NBC's upcoming Peter Pan Live!)
Finding Neverland is currently undergoing a tryout production at the American Repertory Theater in Cambridge, Massachusetts. Produced by Harvey Weinstein and directed by Tony-winner Diane Paulus (Pippin, Hair), the show is led by Broadway stars Laura Michelle Kelly and Jeremy Jordan (who also played angsty songwriter Jimmy on NBC's Smash). The Broadway cast hasn't been confirmed yet, though it would not be unusual for the leads to stay.
While the show was only officially announced today, it's been expected since June, when Jennifer Hudson—who's not involved with Finding Neverland—inexplicably performed a "preview" at the 2014 Tony Awards.