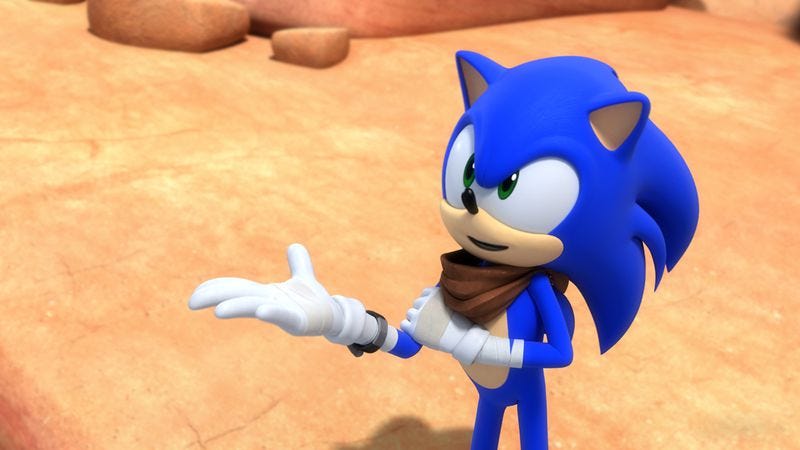 Sonic The Hedgehog, the Sega character best known for existing somewhere between Mario and the Energizer Bunny on the continuum of cartoon-mascot renown, now has a scarf. The famously fast spiny mammal acquired the scarf as part of a makeover for the new Sonic Boom animated series and video game, which is designed for maximum appeal to pre-teens—an audience whose appetite for practical neckwear is insatiable. Still, while Sonic's new look could be viewed as a cynical attempt to curry favor with the winter-accessory-loving youth of today, there's plenty of precedent for the move, as Sonic has long adorned himself with a range of useful accoutrement. His Power Sneakers, for instance, grant him super-speed, and his Bubble Shield protects him enemy attacks. Sonic's new scarf has special powers of its own, with the ability to ward off brisk fall breezes or chilly drafts.
The scarf is brown.
Creative executives in charge of Sonic Boom noted that the new incarnation of the iconic video game character would exist in parallel to the older, lamer, scarf-not-having Sonic. "When you have a franchise with the depth and fan base of this one, you can have more than one incarnation existing side by side," said Evan Bailey, the TV show's executive producer, in an Associated Press report. Given that creative freedom, it's no surprise that Sega's updates to Sonic extend beyond a mere scarf. The hedgehog also has a new hairstyle that will make him fit right in with all the other women waiting for their Glamour Shots photo session. And the new Sonic features athletic tape wrapped haphazardly around his arms and shoes, because…?
Release dates for the Sonic Boom video games, on the Wii U and the Nintendo 3DS, have not been announced. The Sonic Boom cartoon series is scheduled to premiere this fall, in Scarftember or Scarftober, or possibly as late as November.