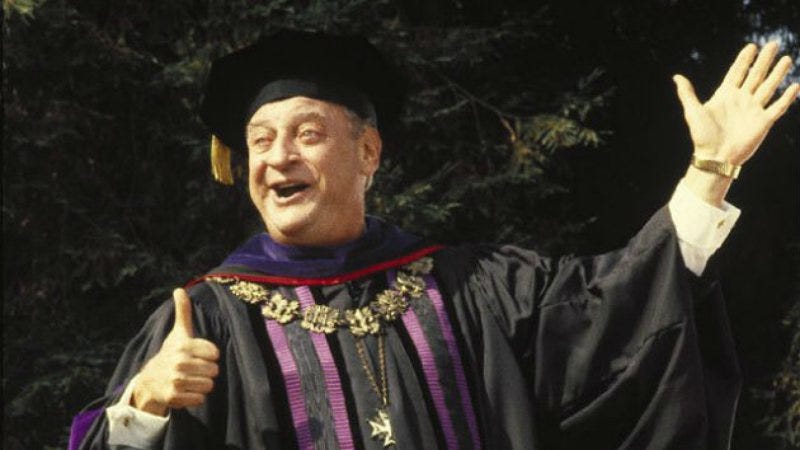 Louis CK. Sarah Silverman. Aziz Ansari. Sure, they're funny. But are they qualified to be funny?
No longer will audiences have to wonder, as starting in September of next year, Emerson College will be offering a four-year degree in comedy. Course work will include sitcom production, late-night talk show writing, and sketch comedy, a program offered in partnership with the Upright Citizens' Brigade. Emerson president Lee Pelton says of this new course of study, "This new degree strengthens Emerson's commitment to the study of comedy by adding academic rigor and institutional resources." Because if there's one key to comedy, it's academic rigor.
While Emerson has produced some notable comedic alumni, including Norman Lear (dropped out after two years to enlist in WWII), Jay Leno (bachelors' degree in speech therapy), Denis Leary (creative writing), and David Cross (dropped out after a semester), none of them had a degree in comedy, and therefore weren't really that funny.
But you, aspiring comics of the class of 2020, can be, as you will be the first stand-ups who can proudly hang a framed degree on the brick wall of your local Chuckle Hut to assure the audience they're in good hands before you launch into your academically rigorous bit about taking your shoes off at the airport. Then again, if you pay Emerson $40,000 a year to get a degree in something people have been teaching themselves how to do for free for decades, maybe the joke's on you.