Yesterday, media blogs were abuzz with the news about a Hong Kong producer's plan to make an X-rated 3D version of the 1991 HK hit Sex And Zen, and most of those blogs repeated the hype that this would be "the first 3D porn film." This is, of course, preposterous; 3D porn has been around for a while. (Remember the WKRP episode where Herb goes to a dirty movie, and everyone in the audience is wearing 3D glasses and ducking a lot?) The film most often cited as the first 3D porn feature is 1976's The Starlets, though that same year also saw the release of Hard Candy, which was re-released on the college cinema circuit in the '80s as the softcore M 3-D. And before either of those films, there was The Stewardesses, a 1969 softcore 3D movie that was one of the first X-rated films, as well as one of the most profitable independent productions of all time. The Stewardesses was re-released in a softer R-rated version in the early '70s, then re-edited with hardcore footage in the mid-'70s. Shout! Factory's new DVD edition of The Stewardesses features the "uncut" version (which is the original X-rated-but-not-explicit version), in both 3D and non-3D formats.
Look for a full review of The Stewardesses DVD here next week; in the meantime, you'll find multiple opportunities to pursue your interest in smut on this week's DVD list, including the latest set of exploitation trailers in Synapse's always-entertaining 42nd Street Forever series, and a Troma Films release of the 1989 teen sex romp Getting Lucky.
And while you're feeling nostalgic for your adolescent preoccupations, why not step away from the erotica and cleanse your palate with something more wholesome, like The All-New Superfriends Hour, or the first two seasons of Blossom, or the final season of Cheers? Or how about growing up a little and checking out a documentary, like the late Marlon Riggs' 1994 classic Black Is… Black Ain't, or the acclaimed 1990 bio-doc Listen Up! The Lives Of Quincy Jones, or last year's provocative Roman Polanski: Wanted And Desired?
Finally, If you'd rather stay contemporary, this week sees the DVD release of two surprisingly enjoyable films by two hit-and-miss auteurs: Guy Ritchie's RocknRolla and Woody Allen's Vicky Cristina Barcelona. The latter even has some sex in it, though its tasteful PG-13 arthouse sex—barely in two dimensions, let alone three.
2012: Science Or Superstition
Disinformation, $19.95
42nd Street Forever Vol. 4
Synapse, $19.95
The All-New Superfriends Hour: Season One, Vol. 1
Warner, $26.98
Becoming Charley Chase
Facets, $39.95
The Beiderbecke Affair
Acorn, $39.99
Black Is… Black Ain't
Docurama, $19.95
Blossom: Seasons One & Two
Shout! Factory, $49.99
Brian Wilson: That Lucky Old Sun
Capitol, $24.98
Cannery Row
Warner, $19.97
Cheers: The Final Season
Paramount, $39.98
College
MGM, $29.99
Dario Argento's Door Into Darkness
Mya, $29.95
Dead Of Night (1977)
Dark Sky, $14.98
The Family Way (1966)
Wham! USA, $24.95
Far From The Madding Crowd
Warner, $19.97
Fireproof
Sony, $28.96
The Gene Generation
Lionsgate, $26.98
Getting Lucky (1989)
Troma, $14.95
Goodbye, Mr. Chips (1969)
Warner, $19.97
Groundhog Day
Sony Blu-ray, $28.95
Gutterballs
TLA, $19.99
Holly
WEA, $26.98
Higher Ground
Sony, $19.94
Hulk Vs.
Lionsgate, $19.98/$24.98; Blu-ray, $29.99
Il Divo: At The Coliseum
Sony, $14.98
The Invaders: The Second Season
Paramount, $36.98
Lakeview Terrace
Sony, $28.96; Blu-ray, $39.95
Listen Up!: The Lives Of Quincy Jones
Warner, $24.98
Little Nemo: Adventures In Slumberland (1992)
Platinum, $7.98
The Love Boat: Season Two, Vol. 1
Paramount, $36.98
The Lucky Ones
Lionsgate, $27.98
M.A.N.T.I.S.: The Complete Series
Image, $49.98
Mary Poppins: 45th Anniversary Edition
Disney, $29.99
Open Season 2
Sony, $28.95; Blu-ray, $39.95
Pride And Glory
New Line $28.98/$34.98; Blu-ray, $35.99
Redneck Zombies (1988)
Troma, $24.95
The Rocker
20th Century Fox, $29.98; Blu-ray, $39.98
RocknRolla
Warner, $27.98/$34.99; Blu-ray, $35.99
Roman Polanski: Wanted And Desired
Velocity/ThinkFilm, $27.98
Russell Peters: Red, White And Brown
Comedy Central, $19.99
Sam Kinison: Unleashed!
Mill Creek, $14.98
The Secret Of The Magic Gourd
Disney, $29.99
The Secret Policeman's Balls
Shout! Factory, $39.99
Sidney Poitier Collection: Edge of the City/Something of Value/A Patch of Blue/A Warm December
G/O Media may get a commission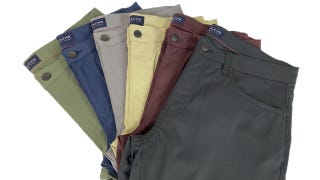 JACHS NY Fall Stretch Tech Pants
Warner, $39.98
The Stewardesses 3D: 40th Anniversary Edition
Shout! Factory, $24.99
Vicky Cristina Barcelona
Weinstein, $28.95; Blu-ray, $34.99
Warner Bros. Romance Classics Collection: Palm Springs Weekend/Parrish/Rome Adventure/Susan Slade
Warner, $39.92
Waterloo Bridge
Warner, $19.97
The Yellow Rolls Royce
Warner, $19.97
Zodiac
Paramount Blu-ray, $36.99