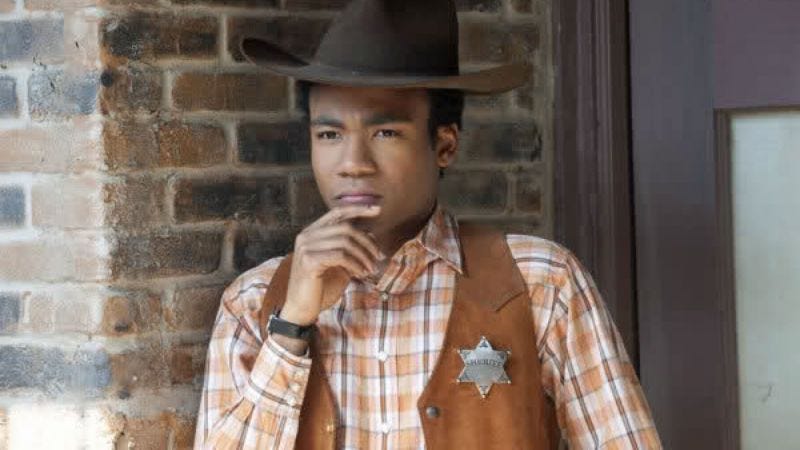 On Monday, Donald Glover shared some of his emotions (his emotions) with the world through a series of Instagrams, in which he posted several confessional notes he'd written on hotel stationery. And while the tone seemed rather bleak and desperate at times—leaving some to wonder whether his whole brain was crying, ha ha, but no seriously, are you okay, Donald Glover?—Glover has followed up by insisting that really, he's fine. In a follow-up with People, he explains, "That night, we had a show, and then afterwards, I had this moment of feeling like, 'What's the point? Why am I even here? I just wanted to write down my feelings. I definitely was just expressing myself."
Unfortunately (though obviously consciously), Glover was just expressing himself in a way that just happened to be in front of thousands, as Glover adds, "I don't think those feelings are that different from what everybody's feeling. Most people just don't tell everybody." Also, most people haven't just left a TV show whose troubled behind-the-scenes goings-on, in the absence of it actually being on the air, are a constant source of speculation among its uniquely devoted, very sensitive fanbase. Hence those feelings being analyzed as "depression" by a whole world of first-semester psych majors, basically.
But for all the Brittas, Glover resists—both on Twitter and in the People interview—their amateur diagnosis, saying, "If I'm depressed, everybody's depressed." And while he wouldn't elaborate on any of his comments about Community (or anything else, really), ultimately he's "glad people saw it. I feel like I got some stuff out there," saying he felt the need to vent because he was "just tired of telling people I was tired." ("I didn't want to do that anymore. I guess sometimes not telling the truth is just as bad as telling a lie.") In other words, nothing to worry about. Just one of the many dark nights of the soul that takes place everyday at your local Residence Inn.