Country singer Mindy McCready was found dead today of an apparent suicide, according to a report first circulated by NBC's Andrea Canning, before McCready's death was confirmed by her family. It's a sudden end to a long period of turmoil for McCready, who in recent years had become far more famous for her personal troubles than for her music. Those troubles had only intensified in the wake of the Jan. 13 death of her boyfriend, record producer David Wilson, of a presumed self-inflicted gunshot wound, a case authorities are still investigating. McCready reportedly took her own life the same way. She was 37.
In these few weeks since Wilson's death, McCready's problems with drug addiction and mental health issues had led to her being involuntarily committed to a rehab facility (though she was put on outpatient treatment only a day later). It was the last of her many, very public personal struggles, with McCready seemingly spending the bulk of the past decade steadily appearing before courts for forging prescriptions, driving under the influence, battery and resisting arrest (stemming from a fight with her own mother), and various instances of probation violation. She had also attempted suicide several times over the years, including once while pregnant.
McCready's romantic life also made her a constant tabloid presence, particularly her long affair with baseball's Roger Clemens, which McCready claimed began when she was just 16. There was also her violently abusive relationship with singer Billy McKnight, father of McCready's oldest son Zane. In recent days, both Zane and the 9-month-old son she'd had with Wilson were taken away from McCready by state authorities.
Somewhat ironically for a country singer, the never-ending unrest that defined McCready in the public eye sharply contrasted with the songs she sang. McCready first rode in on a wave of the sort of fun, feisty country pop spun by Shania Twain and Faith Hill, two contemporaries McCready was often compared to when she first broke onto the charts. Her double-platinum 1996 debut Ten Thousand Angels similarly served up good-time singles about sassy gals not taking any more of their man's crap, such as her biggest hit, "Guys Do It All The Time," and "A Girl's Gotta Do What A Girl's Gotta Do."
By McCready's lovelorn second album, If I Don't Stay The Night, melancholy had begun to seep in, and those up-tempo kiss-offs began to be overshadowed by weepy power ballads—and subsequently the radio audience started to lose interest. Though it still went gold, Night failed to spawn a Top 10 single, while its follow-up, 1999's I'm No So Tough, lived up to its title by delivering a weak 144,000 in sales. Soon after, McCready was dropped by her label, BNA Records. She was rescued by Capitol in 2002, only to release a self-titled album to even more disappointing results. Capitol dropped her too, setting off a downward spiral in her personal and professional life.
G/O Media may get a commission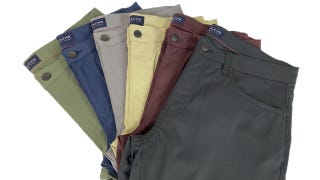 JACHS NY Fall Stretch Tech Pants
McCready's final album was 2010's defiantly titled I'm Still Here, a shaky comeback attempt that was received optimistically yet garnered mixed reviews. That same year, McCready appeared on VH1's Celebrity Rehab alongside Heidi Fleiss, Tom Sizemore, and the late Mike Starr, seeming determined to pull things together for herself and her family. It proved to be the last-ditch effort in a sad, lengthy campaign of always attempting to put her life right, one that McCready ultimately abandoned today.