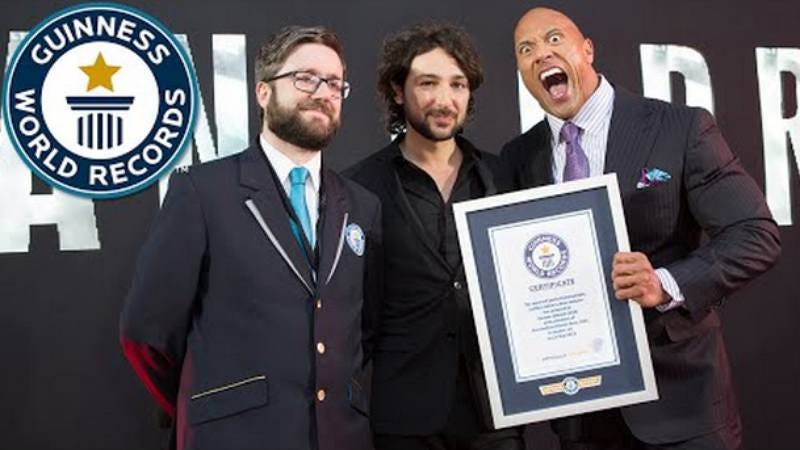 Actor Dwayne Johnson has won a new award to put up on his mantle, next to all the WWE Championship belts and lifetime achievement plaques from The Society For Big, Scary Smiles: the Guinness World Record for most selfies taken in a three-minute span. The actor earned the title during the red carpet premiere of his new movie San Andreas, in which, having mastered all other challengers, the former wrestler turns his powers upon the raging earth itself.
Under the watchful eye of the stoic, attention-phobic people of Guinness, Johnson clicked photo after photo with a sequence of grinning fans, all willing to put their faces on the line for their beloved, benevolent giant. Tragically, several of Johnson's selfies (or, in official terms, "self-portrait photographs") were disqualified, in what must have been a moment of staggering tension, for having blurred faces or lacking the legally mandated "full face and neck." But Johnson ultimately triumphed, racking up 105 acceptable shots and once again showing the world how he earned his old wrestling nickname, "The Ansel Adams of Charmingly Self-Aware Narcissism." (He refrained, though, from bellowing his famous catch phrase, "Can you smell what The Ansel Adams Of Charmingly Self-Aware Narcissism is contractually obligated to promote?!")
Controversy erupted, though, in the comments section of Guinness' post about the new record, when a user dropped the bombshell that he had just "broke the record on a slow Iphone 4…its 148 selfies in 3 mins..Dwayne u have competition." Guinness emergency record-response helicopters will presumably be dispatched to confirm the commenter's claims momentarily, just as soon as he puts together a big Hollywood blockbuster to promote.