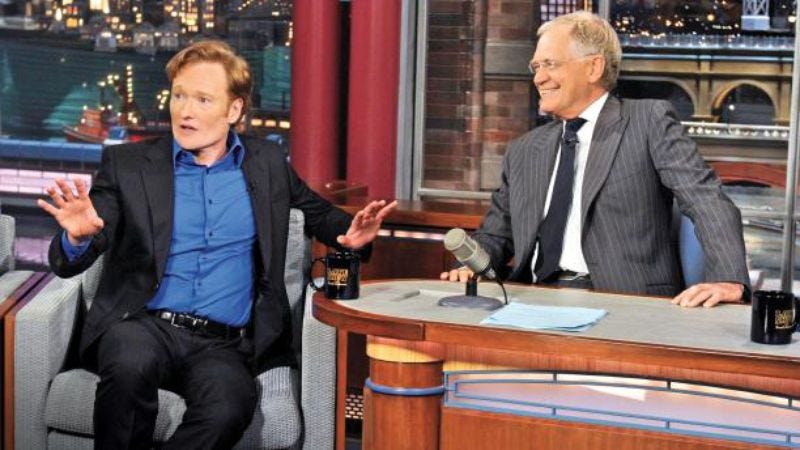 While it wasn't quite as dramatic as AMC airing a message on its sister channels telling viewers to click over to the Mad Men finale, Conan O'Brien paid the highest tribute a talk-show host can to his colleague David Letterman last night: He told viewers to change the channel.
In the middle of his show, O'Brien paused to give an emotional monologue on Letterman's influence on comedy, calling him "the North Star for me and for every comic of my generation." He went on to describe how Letterman had "completely rescued me" after he took over Late Night in 1993, and told viewers he would let them know the minute Letterman's show would start so they could change the channel:
And he did, pausing in the middle of an interview with Patton Oswalt and flashing a message on the screen for viewers to "TURN ON DAVE":

And at least a few of them must have done what they were told, as the final episode of the Late Show pulled in 13.76 million viewers, the highest numbers since Letterman's show following the Winter Olympics in February of 1994. Even President Obama was watching, and tweeted a tribute to the outgoing host:
@BarackObama was just one of many verified Twitter accounts that paid tribute to Indiana's most famous former weatherman, a selection of which are embedded below. For more on Letterman's final episode, check out Erik Adams' recap of the series finale.