Yesterday, the Internet briefly turned into that group of kids in the cafeteria who stand up when a shoving match breaks out, shouting, "Fight! Fight! Fight!"—all thanks to a quote buried inside a lengthy Guardian profile of director Christopher Nolan. The piece, running over 6,000 words and timed to coincide with this week's release of Interstellar, is full of insights about Nolan's films and his place in modern cinema. Yet all the attention went to a possibly second-hand quote of Nolan talking shit (sort of) about Marvel movies during the production of Man Of Steel, which he produced and whose story he helped develop.
Here's what Nolan allegedly said:
When the studio asked if [Man Of Steel director Zack] Snyder would add a comedy coda ending, in the style of Marvel, Nolan's reply was "A real movie wouldn't do that."
Every Marvel Studios movie thus far has famously included at least one mid- or post-credits scene, serving to either lighten the mood after a bombastic climax or tease the next feature in the Marvel universe. However, just as the Internet began looking to Joss Whedon and saying, "You gonna take that?" and "Kick his ass!" Nolan stepped in to deny he'd ever said that. In a statement to BuzzFeed, the director said, "I would never say someone else's film isn't 'a real film.' The quote is inaccurate."
Still, Nolan hasn't yet disputed The Guardian's portrayal of him as being hypersensitive to lens flare while editing one particular scene from Interstellar. So here's an assignment, Internet: By this time tomorrow, we expect you to have started another imaginary feud between Christopher Nolan and J.J. Abrams.

G/O Media may get a commission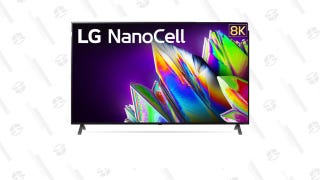 LG 75-Inch 8K TV