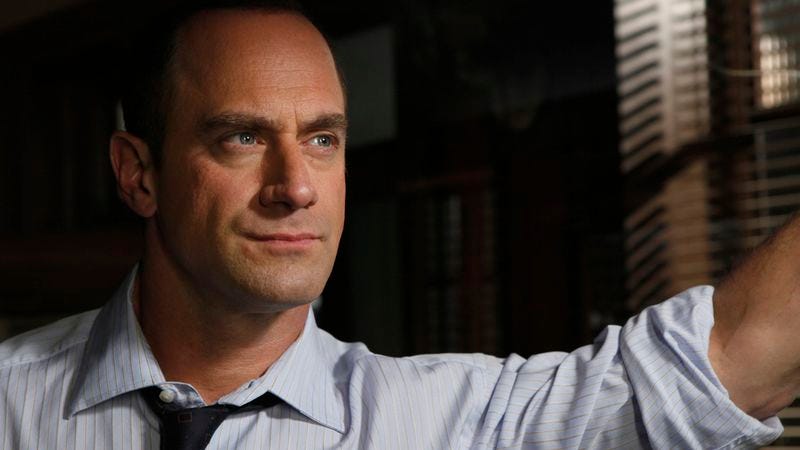 For a staggering 272 episodes, Christopher Meloni starred on Law & Order: Special Victims Unit as Detective Elliot Stabler, a cop who solved most of his cases by grabbing suspects' throats and slamming them into walls while screaming at them. He also played a guy in Wet Hot American Summer who really liked to hump the fridge and fondle his sweaters. His next role, weirdly, is a little bit of both.
According to The Hollywood Reporter, Meloni is going to star in an animated pilot for Fox called Botcop, which is a legally distinct name that has nothing to do with a popular movie or its less-popular sequels. Meloni will be playing Botcop himself, a cybernetic police officer who was once "considered the cutting-edge of law enforcement" thanks to his "dial-up internet and fax machine." After getting fired from the LAPD for being outdated, though, he moves in with his old partner and takes a job as a security guard at "a fancy gated community."
The former partner will be voiced by Scrubs' Donald Faison, a guy who is also a single dad trying to raise two adopted kids, Reuben and Lulu, voiced by John Leguizamo and Katy Mixon. Reuben is an aspiring mogul of some sort, and Lulu is "the blue-eyed and adorable" daughter of "America's most famous cannibal serial killer couple." Also, Botcop's boss is an Iraq War veteran who "now fights to keep her sanity," and she's voiced by Orange Is The New Black's Kate Mulgrew. Basically, there are a lot of things going on in Botcop.