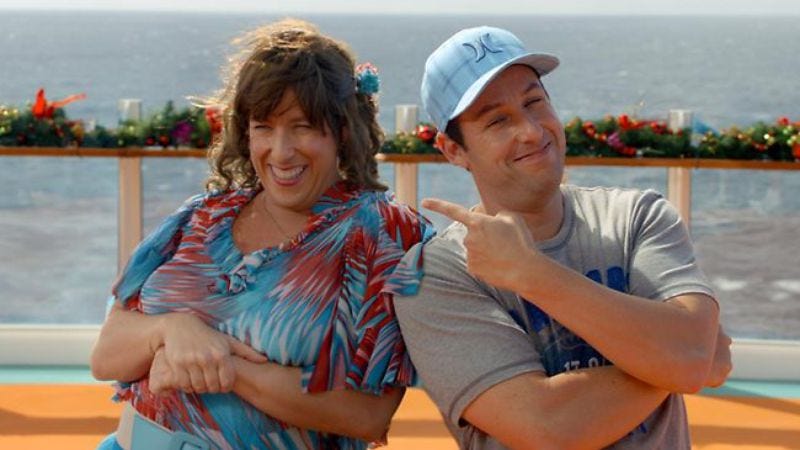 Unfortunately buried in all the weekend's Oscars talk were the nominations for the annual Golden Raspberry Awards, which—unlike the Academy—singled out the year's worst movies besides Extremely Loud And Incredibly Close. In fact, that film somehow didn't even qualify for a Razzie, though there was an ironic tie to yesterday's ceremony, where Adam Sandler took part in an Oscars montage championing movies as an art form barely 24 hours after setting Razzie history with a record-breaking 11 nominations.
Topping the list—the complete version of which you can see here—were Sandler's performances in Just Go With It and especially Jack And Jill, which scored him nods for both Worst Actor and Worst Actress (where he'll compete against Sarah Palin playing a fantasy version of herself in the documentary The Undefeated). Furthermore, all possible permutations of his screen pairings in both of those movies were nominated for Worst Screen Couple, the specificity of which somehow seems even more cutting than his closest competitor, "Nicolas Cage And Anyone Sharing The Screen With Him In Any Of His Three 2011 Movies."
Anyway, these nominations, when combined with his producing work on Bucky Larson: Born To Be A Star, contributed to Sandler easily besting Eddie Murphy's five nominations for Norbit in 2007, and making Adam Sandler the most Razz-ed star of all time. Furthermore, by popping up in nearly every major category (including a Worst Supporting Actor nod for Al Pacino's unbelievable turn as "Al Pacino"), his Jack And Jill definitely seems like a lock for Worst Picture of the year, provided it can beat out contenders like Twilight: Breaking Dawn, Transformers: Dark Of The Moon, and New Year's Eve—which, yeah, it probably can. Upon hearing of his impressive sweep, Sandler reportedly mumbled, "Sowwy" in a cutesy baby voice, then put on his flip-flops and shuffled to the fridge.