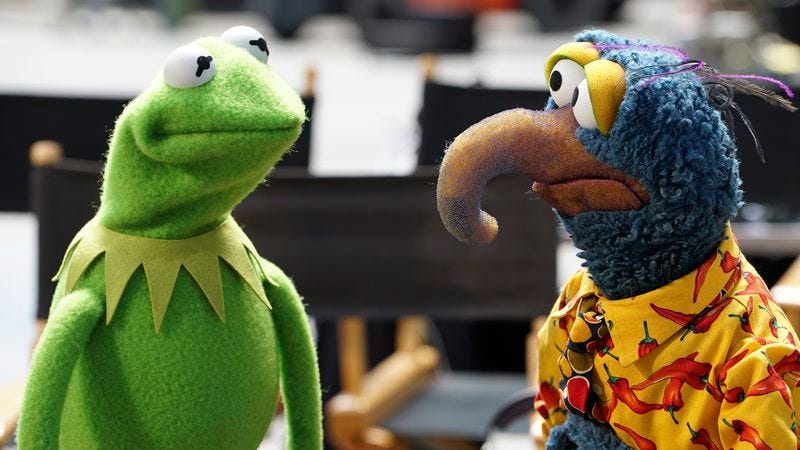 It's time to raise the curtain / It's time to light the lights / Nine shows, including The Muppets, got the ABC greenlight.
At the most sensational, Muppet-tational hour of "right before close of business on the West Coast," the Alphabet released the details on three new comedies and six new dramas that will join its lineup next season.

On the comedy side:
The Muppets marks the first primetime series for the Jim Henson-created, Disney-owned characters since 1996's Muppets Tonight. Headed by Big Bang Theory duo Bill Prady and Bob Kushell (who'll executive produce alongside Office vet Randall Einhorn and longtime Muppet performer Bill Barretta), the series will take a "documentary-style" look into the lives Kermit The Frog and friends. (Which helps explain the involvement of Einhorn, who helmed more episodes of the American Office than any other director.)

Community's recent experiments in greenscreen technology just might have been a test run: Ken Jeong's Dr. Ken pilot is finally going to series. The medical comedy puts Jeong in front of a solid ensemble that also features Suzy Nakamura, Dave Foley, Tisha Campbell-Martin (Prepare your "Ham, Gina!" jokes now), Jonathan Slavin, and, most importantly, BERT!

The official synopsis of The Real O'Neals is frustratingly vague—"a contemporary take on a seemingly perfect Catholic family whose lives take an unexpected turn when surprising truths are revealed"—but since it co-stars Mad Men alum Jay R. Ferguson, let's just assume each of the O'Neals stole someone else's identity following the Korean War. (And maybe Martha Plimpton's character is actually D.B. Cooper.)
Among the dramas, ABC re-upped its commitment to being in the Shonda Rhimes business, while also building up a reserve of politically charged premises and former stars of Gossip Girl.
The Catch is the previously announced Shondaland series starring The Killing's Mireille Enos as a fraud investigator who's on the verge of being defrauded herself—by her fiancé. The pilot script hails from Hannibal writer-producer Jennifer Schuur—and was not, as Shonda Rhimes would like to remind you, created by Shonda Rhimes.

An anthology series in which each season will follow a different case set in a different era of L.A. history, Wicked City begins with a murder investigation set against the backdrop of the 1980s Sunset Strip scene—both a wondrous fantasyland and a horrifying hellscape, as detailed in the popular songs of the time. Like the bright-eyed innocent portrayed by Axl Rose in the beginning of the "Welcome To The Jungle" video, Taissa Farmiga hops a bus to Wicked City from Ryan Murphy's American Horror Story backwaters; Parenthood's Erika Christensen appears to be playing a charter member of the Parents Music Resource Center. ABC should publicize where erstwhile Chuck Bass Ed Westwick got that jacket.

The yawn-inducing Gallant to Westwick's Gossip Girl Goofus, Chace Crawford, heads to North Dakota to strike it rich in the oil game in an untitled project from Surface creator Josh Pate and newcome Rodes Fishburne. In North Dakota, Crawford's character is pitted against "a ruthless tycoon," who might be played by Don Johnson, but isn't Bart Bass, so that one feels like a wash.

In The Family, a politician is reunited with her long-lost son—but is it really her son? Usually you can trust Zach Gilford, but there's something suspicious about that stubble. Alison Pill reserves judgement, grateful that she doesn't have to tolerate a bunch of bloviating Aaron Sorkin monologues about jumping to conclusions, something real journalists like Murrow and Cronkite would never do.