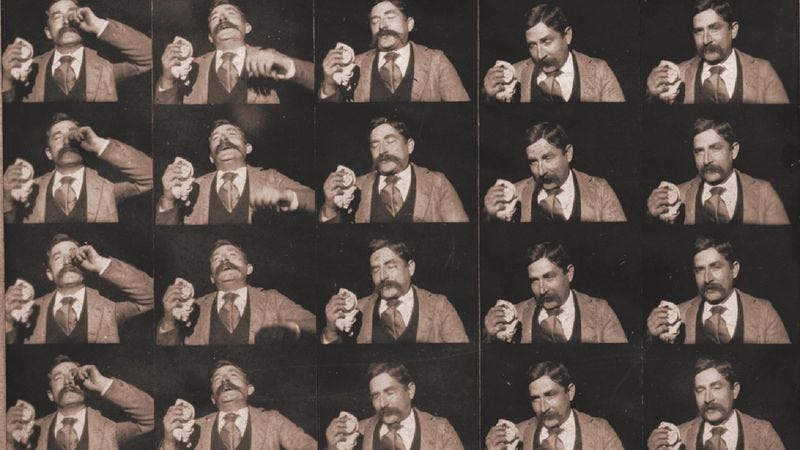 The Internet Movie Database is, among other things, democracy in action. Create an account and you can vote on any movie (or TV show) you like. Want to give Miller's Crossing its richly deserved 10 stars? Go ahead. But if you're an incorrigible contrarian and want to give The Godfather one star, there's nothing stopping you.
With this year marking the 120th anniversary of the first projection of a motion picture in public, enterprising Reddit user monoglot has ingeniously commemorated the milestone. He's compiled 121 movies from 1894 to the present day that have accumulated the most IMDB nine- or 10-star ratings, listing one movie per year. As he puts it, they're "the movies throughout time that modern viewers most love." Edison Kinetoscopic Record Of A Sneeze (824 votes, 181 top votes) leads the list, and The LEGO Movie (48,025 votes, 25,934 top votes) sits at the end.
In between, there's some interesting stuff. For instance, the early years of cinema are represented by some fairly obscure entries, such as Four Heads Are Better Than One (1898) or The One-Man Band (1900), both by Georges Méliès. It's likely the part of the list where the hardcore cinephile choices can reign supreme.
Entering the peak of the silent era, Charlie Chaplin and D.W. Griffith dominate. And the golden age of Hollywood is represented by the likes of Bride Of Frankenstein (1935) and Citizen Kane (1941), of all movies. Once the list reaches the '70s and beyond, there are plenty of expected favorites from Kubrick and Scorsese, as well as both the original Star Wars and Lord Of The Rings trilogies. But there's one surprise amidst all this—the 2011 French film The Intouchables (282,842 votes, 181,019 top votes). Sure, some of these entries may have ballot stuffing to thank for their high star ratings. Nevertheless, the list provides insight into the kinds of films that manage to become favorites for many people—some that are award-winners and others that simply amassed cult followings.