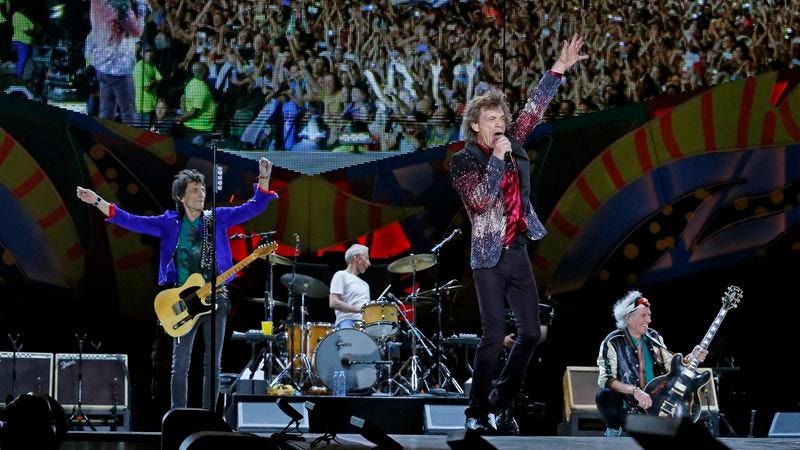 "Dad Rock" has been a thing for a while now, but with artists like Bruce Springsteen, Paul McCartney, Cheap Trick, and The Rolling Stones still touring and apparently going strong in their fifth—and even sixth—decades of fame, the 2010s are shaping up to be the decade of "Grandpa Rock." Speaking of the latter, all 17 of you who have been eagerly awaiting a followup to 2005's A Bigger Bang are in for a treat, as Rolling Stones guitarist Ronnie Wood tells The Associated Press that the band is prepping its first album of new material in a decade, and aims to release it later this year.
Well, not all new material. Wood says that, as well as an unnamed number of new original songs, the band has cut 11 classic blues covers as well. "They are extremely great cover versions of Howlin' Wolf and Little Walter, among other blues people. But they really sound authentic," Wood says, which is kind of ironic considering that inauthentic blues covers made the Stones famous in the first place. For their part, the rest of the band remains tight lipped, a figure of speech that should never be taken literally in Jagger's case.
The new album will presumably be followed by a tour, where the Stones will play "Jumping Jack Flash" and "(I Can't Get No) Satisfaction" and everyone, save for those 17 aforementioned guys, will be happy. Then each of those 17 will go home and post their dream post-Voodoo Lounge Rolling Stones set lists on a message board, and Keith Richards will receive the nightly injection of alien DNA that keeps him alive, and everyone will be happy.